November 3-5
This year's Healthcare Staffing Summit will be held as an in person event in Boston at the Encore Boston Harbor.
Visit Us:
Booth 300 in the Exhibition Hall
The 2021 Healthcare Staffing Summit: Driving Success in the New Normal is your one event to gather for the latest updates in all areas of healthcare staffing.
Connect with industry peers, learn about the rapid acceleration in the technologies and services available to the industry and be inspired by leaders and experts who are transforming the field.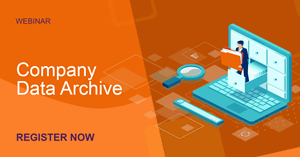 Webinar 15 Dec 2021 10:00 AM
Company Data Archive (CDA) provides an easy way to move historical information from your live company to an archive company.
Register